Used Hydraulic Breakers that Work Better than New
At Trinity Hammer, we pride ourselves on giving new life to used hydraulic breakers. Our team consists of the most highly skilled, factory-trained technicians who repair all makes and models in-house to OEM specifications (and better!). So, when you're in the market for new equipment or certified rebuilds, partner with a company you can trust.
We've Got Your Breaker Hammer for Sale
If you're looking for a breaker hammer for sale, save yourself time and money by purchasing one of Trinity's certified rebuilds. We carry all the leading brands, including Rammer, Indeco, Kent, NPK and Tramac hydraulic hammers–each restored to better-than-new condition at a lower cost!
Because we specialize in rebuilding used hydraulic breakers for excavators, you know you're getting a superior piece of equipment that gets the job done right every time. Everything from the diaphragm, hoses and tie rods to the piston, seals, and upper and lower bushings are replaced and rebuilt to factory standard.
Each of our certified used hydraulic breakers comes with a standard mounting bracket, hydraulic hoses, a new tool and a six-month warranty. Here are just a few that are currently available: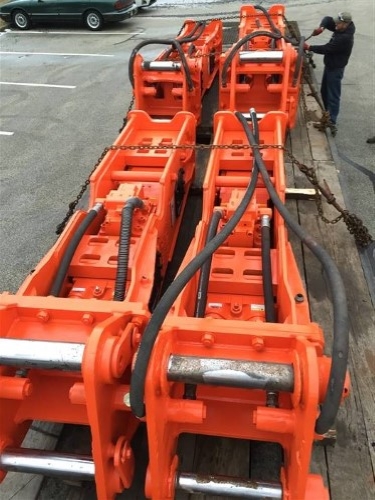 Rammer G88
Tramac V2500
Rammer S29
Okada Top 60
NPK GH-4
NPK GH-10
CAT H180
NPK GH-18
NPK Gh – 12
NPK GH-15
NPK e216
NPK e225
CAT H140
CAT H130
Rammer G90
Rammer G110
Rammer G130
Rammer S83
Rammer E68
Rammer 4099
BTI BXR120
BTI BXR85
Kent KF-70
Kent KF-45
Okada TOP 400
Okada TOP800
Tramac V46/45
Tramac V55/56
Tramac V4500
Learn More About Our Used Hydraulic Breakers for Excavators
There's no need to purchase brand-new hydraulic hammers when you can get a certified rebuild that works like new. Explore our inventory of used hydraulic breakers for excavators or call us today to 856-375-0103.